SK Telecom trials world's first 5G connected car in South Korea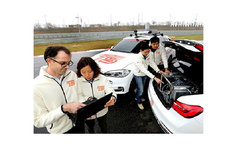 The world's first 5G connected car has been trialled in South Korea by SK Telecom.
The company demonstrated the car in partnership with Ericsson at the BMW driving centre in Incheon.
The car, named 'T5', is supported by Gbps throughput and ultra-low, sub-millisecond 5G latency.
BMW's driving centre is over 240,000 square metres, and the trial network covers the entire track, supporting over 20Gbps peak rates. SK Telecom and Ericsson jointly developed and deployed the 5G radio and core...