Audi reinvents car sharing on a micro scale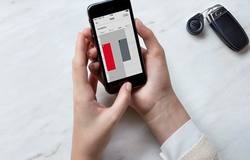 Picture credit: Audi
German manufacturer Audi has announced Audi unite, a way for friends colleagues or neighbours to share the use of their car using an interactive app.
With the help of digital design house Kram/Weisshaar, Audi is hoping to give people a more economical way to use its cars. An app lets up to four drivers make car reservations, while a personalised beacon makes it possible for the vehicle to recognise each driver.
The app also communicates with the vehicle to show drivers the location of the...