Harman creates separate audio 'zones' for each passenger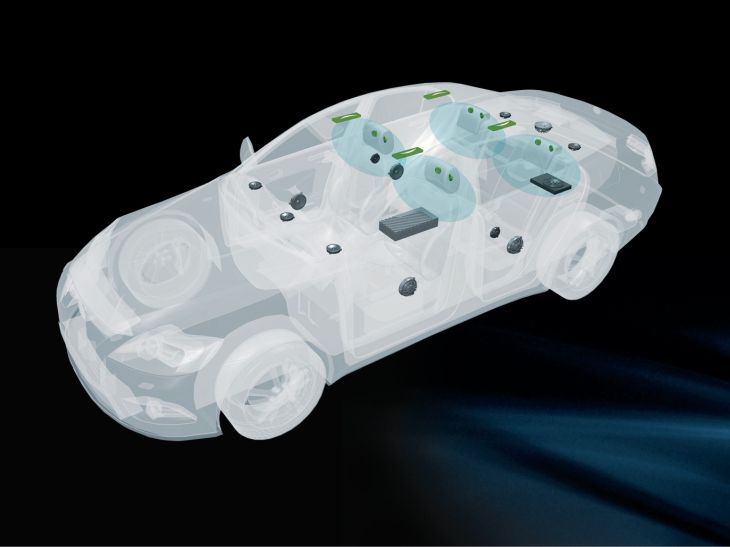 Infotainment manufacturer Harman has designed a new system for cars that is capable of giving each person their own audio without it interrupting their fellow passengers.
Harman's Individual Sound Zones build on a vehicle's regular audio system by adding a number of other speakers to the inside of a car, each aimed at giving passengers their own virtual pod for listening.
The idea is to avoid circumstances in the car that might be distracting for passengers, for example navigation and phone calls are important to drivers, but are likely to interrupt the music, games and audio books that other passengers might be listening to.
Directional speakers
Roof-installed electrodynamic planar loudspeakers, or line arrays, and mid-range directional speakers in the headrests are coupled with digital signal processing, which adjusts cabin and speakers to deal with music, voice or other noises from other zones.
Passengers are only able to activate and control their specific zone and, while the system is said to be fairly effective, Harman has stated that passengers can still hear other sounds in the cabin. However, interruptions and distractions are said to be limited.
In addition to Sound Zones, Harman has also announced HaloSonic, a noise solution technology that sets out to minimise external sounds emanating inside the car.
Noise-cancelling technology
For road noise, Harman's system detects unwanted sounds from the road surface and then neutralises it through the vehicle's audio system. There are obvious benefits to passengers, but the technology also allows manufacturers to improve weight distribution and vehicle handling without worrying about excessive interior noise.
Drowning out engine noise is done in a similar way to how noise-cancelling headphones deal with external sounds, by generating a sound wave that is opposite and in phase to the engine noise. It does this through ceiling-mounted microphones in the car.
These latest audio developments are likely influenced by consumers wanting more from their car's sound system than simply power and speaker distribution, according to Mark Boyadjis, a senior analyst & manager of infotainment & HMI at IHS Automotive.
"Wattage and speaker count doesn't cut it anymore. Innovations in software, hardware, materials, and audio source content are becoming the key components to improving the in-vehicle audio experience."