Pizza Hut, Visa and Accenture in cohorts on car commerce concept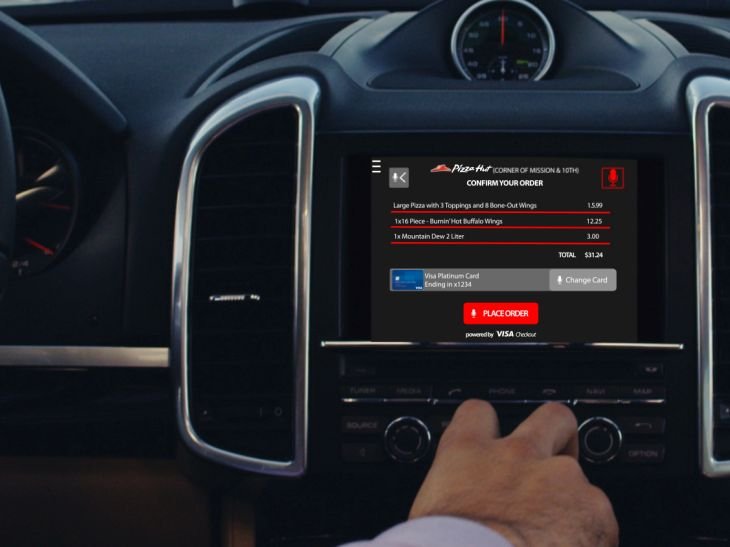 Visa, Pizza Hut and Accenture are to collaborate on a proof-of-concept connected car that will be used to test commerce possibilities when drivers are out and about.
The concept will bring together several technologies, including Visa Checkout, mobile connectivity, Bluetooth and iBeacon, so that staff will be alerted when a customer has arrived to collect their pizza.
Takeaway food might be the initial focus of the tests, but the trio of companies have visions of their technology being adopted for everyday purchases such as fuel for the car, transit and parking or drive-through retail opportunities.
Wheels in motion
While quoting Gartner findings, Bill Gajda, senior vice president of Innovation and strategic partnerships at Visa, wants to have a commerce solution that has been thoroughly developed by the time connected cars take off.
"By 2020 it is estimated that more than 250 million vehicles worldwide will include some form of embedded connectivity," Gajda said. "As the number of connected cars on the road increases, so does our ability to bring secure online commerce to consumers everywhere.
"We initially focused on a specific use case – ordering a meal on your way home – but we envision a world where consumers can seamlessly make many of their everyday purchases from the car."
Visa envisages its Visa Checkout online payment service to not only be integrated with the dashboard, but also use Interactive Voice Control (IVR) to authenticate purchases while drivers keep both hands on the steering wheel.
C-commerce
Having already implemented Visa Checkout, Pizza Hut wants to take the next step by providing menus on the cars dashboard screen with delivery and pick-up options to accompany the already-mentioned beacon technology.
Accenture's role in the project is to develop the apps and bring the technologies together so that they are easy to use for the driver and passengers, with Anand Swaminathan, global growth and strategy lead for Accenture Digital, also talking up the commerce possibilities.
"We are pleased to team with Visa to explore the future of Internet of Things-based commerce by building the connected car commerce prototype," he said.
"Visa has great vision in this space and continues to innovate and explore new ways to make purchases more convenient for consumers, setting the bar even higher in terms of friction-less payment transactions."